New Functionalities
Markdown Editor
Markdown format is rendered/formatted in listing detail page and account detail page in the web apps.
Basic Launchpad
When creating new projects(tenant), you can configure the main fields needed to launch your website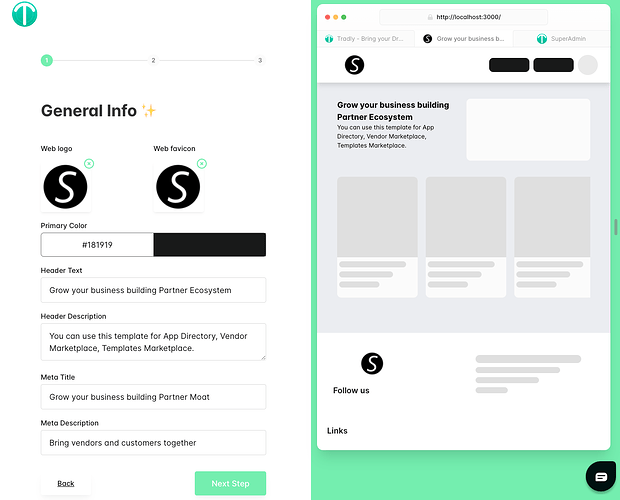 You can test from here: Launchpad - Tradly
No-code configs
Social Icons
Footer icons for app icons
Change Fonts
Reviews & Ratings added in web apps
Event marketplace template
Product marketplace template
Directory Template (soon)
Map View, List View and Grid View
In event marketplace template, Users would be able to browse the listing on 3 methods.
Listings recommendations
"You May Also Like" listing recommendation on current listing
" More from the Account" in listing page. This will help user to navigate more content and reduce churn rates.
Integrations added
Google Tag Manager
You can use by going to Superadmin > Settings > Web Config > GTM
UX Improvements
Logo & Header on mobile
BUG: Promo banner enhancement where you can upload different banner for mobile and desktop
BUG: Mobile Web - Menu click behaviour bug fixed
Account Creation - Image is not mandatory. Added default image when there is no image in accounts.
Listing Page UI enhancements
16 minor adjustments related to alignment and styling consistency across the product and event marketplace templates.
Use this URL to preview all the minor changes: http://social.tradly.co/