If you are not aware, when we integrated firebase for you, it automatically creates a google analytics account for the apps.
This means, Sample data like below can be seen from your app as well. https://analytics.google.com/ (Use the same email ID you have used to signup your firebase)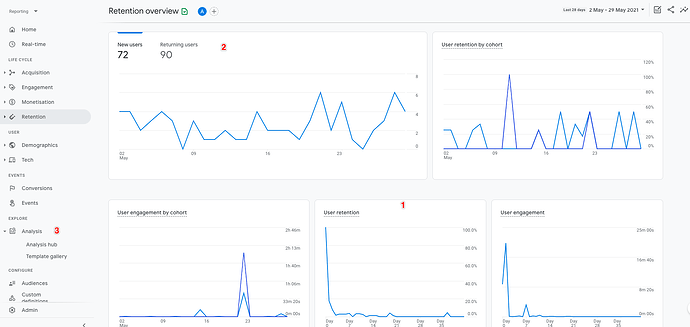 I want to highlight 3 metrics from this report.
1. User Retention Report
In this report you can find how many users who come on a particular day continued to use the app on the consecutive days.
For example:
Let's say if I installed Depop on May1. If i continue to use the app every day until May10, then this chart will show 1 user is continuing to use the app.
Use cases:
For example: When a run a campaign on facebook or somewhere to bring users, you can track by day or month to identify how many users RETAIN in your app. It's very important for a marketplace to retain the users.
2. New Users / Returning Users
This metrics is same as the above but it doesn't show in cohort perspective. Just overall on the particular date range you select. For a growing marketplace, there will be more new users. But a established marketplace might have more returning users than new users.
3. Custom Report Builder
On top of the default metrics and charts shown by google, you can create new report to slice and dice users.
For example: Liquidity is very important. For a local neighbourhood marketplace, having enough number of supply and demand in a particular location is important.
Take Australia, having more supply and more demand in Melbourne is important THAN having more supply in Sydney and more demand in Melbourne. There is also an exception to this where the buyers are ready for shipping/delivery.