New Blocks
Ratings Reviews
Monitor the Ratings & Reviews of your platform users from SuperAdmin (Superadmin > Ratings )


Media Managers
Upload any media into Superadmin for usage across the platform
Use cases
You can re-use assets from media manager in Email Templates creation
Re-use in Promo Banners
Re-use in category images
In other settings configurations like icons, etc
B2C Users: Re-use in Add listing screen
Mobile Responsiveness & UX Improvements
Dashboard Page
Report Screen
Settings grid and input methods
Create collections
Hide currency options if there is single currency to make the UI simple and focused.
Account and Listing configuration header scrolling.
Listing detail screen - Additional informations
Renamed the word 'RANK' into 'ORDER' which is used for ordering of categories and attributes
Edit listings from SuperAdmin (UI & Bugs fixing_
B2C Owners: Add listing process improved, we hope now the add listing process is seamless (We are looking for more ideas)
Added Markdown functionality in descriptions composers.
Categories Management - Now it's easy to search categories while creating child categories or selecting categories while creating attributes
Applicable for API Users
Enhancement to Promo Banners with more placement types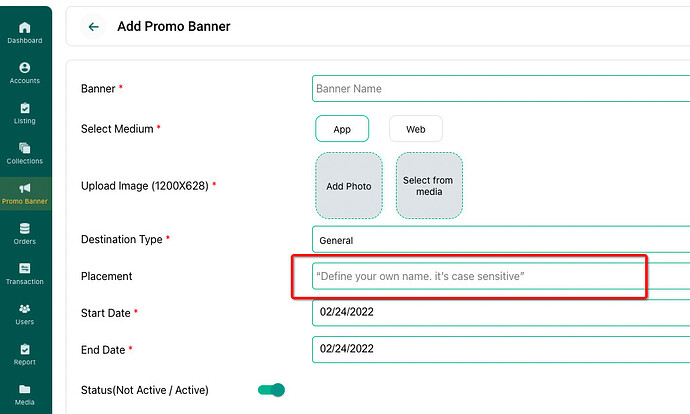 Until now, you will be able to upload images in the promo banners. And this image can be used only in main home page previews.
With placement type, now as a platform owner, you can enter a custom name and use the same custom name to place this banners in different places.
For example:
On top of hero banners, you can use the banners in body

Footer section

Promotion between the feed of other listings
Some Inspirations from Algolia UI Kit on how you can use promo banners.